香港海事青年團馬可賓分隊成立於二零零一年四月二十八日,馬可賓紀念中學十三支制服隊伍其中之一。本分隊致力訓練一班代表香港海事青年團和學校服務社會和敢於承擔的學員領袖。我們的集會時間為週六上午,集會內容包括:步操訓練、海上拯救、船隻駕駛、獨木舟星章和山藝訓練。
Vision
To be a leading and sustainable uniformed organization in Asia for the development of youth training in nautical, naval and maritime activities and disciplines with the inculcation of the appropriate moral, ethical and environmental values.
Mission
To secure and provide the appropriate physical and human resources and facilities to develop and provide international standard programmes for the training of cadets in nautical, naval and maritime disciplines and skills.
Through the medium of the training activities to inculcate into the cadet appropriate moral and ethical values such as respect for the seniors, fairness and consideration in dealing with others and protecting of the environment.
To build up the confidence, self-respect and safety and health awareness of the cadets so that they will become contributing and useful members of the society in which they live and through international, cultural and inspirational exchange programmes furnish them with an international perspective as well as broadening and strengthening their cultural identity.
Officers and Instructors
School Officers
Name:
Tang Chi Keung
Rank:
Lieutenant
Duties:
Design Training Activities
Contact HQ
Financial Issues
Promotion
Name:
Tam Tsz Nga
Rank:
Sub Lieutenant
Duties:
Training Notices
Cadet Attendance

Name:
Kung She Nga
Rank:
Acting Petty Officer
Duties:
Annual Membership
Collection of reply slips and fees
Uniform Issues
Instructors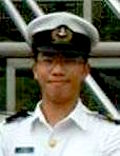 PO-Kwok Kin Kun
APO-Chu Kong Luk
APO-Ng Kam Lok
APO-Yuen Ka Yeung
APO-Li Tsz Chung
Cadet Training Programme 隊員訓練項目
Able Cadet
Ordinary Cadet
Junior Cadet
New Entry
Attendance
70%
80%
90%
90%
Maritime Skills
Maritime Skill 3

Seamanship 3
Navigation 3
Communication 3
Engine Tech 3

Maritime Skill 2

Seamanship 2
Navigation 2
Communication 2
Engine Tech 2

Maritime Skill 1

Seamanship 1
Navigation 1
Communication 1
Engine Tech 1

Basic Knowledge
Aquatics

*5

Canoe Bronze
Canoe Silver

Canoe Two-Star
Canoe Three-Star

Sea Survival
Boat Driving

Foot Drill

*5

N/A
Ceremonial Drill
Squad Drill in single rank
Squad Drill in three rank
Squad Formation
Basic Drill Movement
Mark of Respect
Social Services
50 hours

*1, 2

20 hours

*1, 2

10 hours

*1, 2

4 hours

*2

Camping
At least 1 per semester
At least 3 per academic year
At least 4 per academic year
At least 4 per academic year & Attend HKSCC Annual Camp
Visit
Fire Station

*3

OR
Police Station

*3

Fire Station

*3

OR
Police Station

*3

Museum of Coastal Defence

*4

OR
Golden Bauhinia Square Flag Raising Parade

*1

Museum of Coastal Defence

*4

OR
Golden Bauhinia Square Flag Raising Parade

*1

Others
N/A
HKSCC Annual Parade

*1


MKP Annual Parade
HKSCC Foot Drill Competition
HKSCC NE Passing out Parade

*1
OLE (Other Learning Experience)
*1
Moral and Civic Education
*2
Community Services
*3
Career-related Experiences
*4
Aesthetic Development
*5
Physical Development
Uniform Requirement 制服項目
AWD
No. 7N and No.6
Camp Rig
When to wear
Regular Meeting
Foot Drill Training
HKSCC Annual Parade(7N)
School Annual Parade(7N)
School Uniform Day(No.6)
Camping
Aquatic Activities
Wearing
Beret
Blue Shirt
Navy Blue Trouser
Black socks
Boot
Name Plate
Badges
Sailor Hat
White Shirt with Square Neckline
White Trouser
White Socks
Boot
Jumper(No.6)
White and Black Ribbon (No.6)
SCC Cadet T-shirt
Navy Blue Shorts
Swimming Shoes
Equipments 裝備項目
| Training | Equipments |
| --- | --- |
| Aquatics | Camp Rig, Swimming Wear, Swimming shoes, T-shirt, Sun block, Hat and Bathing Gel |
| Camping | Bag (30-50L), Camp Rig, Dining Utensils, Cadet T-shirt, Shoes, Personal Medicine, Clothes, Bathing Gel and Shampoo etc. |
| Hiking | Compass, Hiking Pole(s), Water, Sun block, Emergency Food and Clothes etc. |
| Regular | Meeting Rope, Bottle, Cadets Training Handbook |
Training Centre Address and Contact
Address: 11 Fung Shing Street, Diamond Hill, Kowloon.
TEL: 2327 7883
FAX: 2350 2484
Email:
hq@seacadet.org.hk
Website:
www.seacadet.org.hk
Address: 17, Shek Pai Tau Road, Tuen Mun, N.T.
TEL: 2407 7440
FAX: 2407 7443
Email:
tsmakopan@yahoo.com.hk
Tang Shiu Kin Nautical Centre(鄧肇堅海事康樂中心)
Address: Tsam Chuk Wan, Sai Kung, HK.
TEL: 2792 3812
Address: Stanley Bay, HK
TEL: 28131863